---
American Made Lawn Furniture
All of our lawn furniture is made for commercial use at a residential price.  All of our products are 100% made in America with high quality and durable recycled materials.
Our products are made tough enough to handle continual use, but are comfortable enough to sit and swing for hours. In fact, our glider swing has a 2 year commercial grade warranty, where we guarantee that it will not crack, chip, or fade in color.
To ensure the best design, SwingScapes has donated swings to businesses, parks, and residents for over eight years to help develop our original swing.  We have conducted hours of research so you can enjoy our products without worrying about their design.  A full article on Pete Ringsmuth, founder of SwingScapes, and our glider swing can be found here.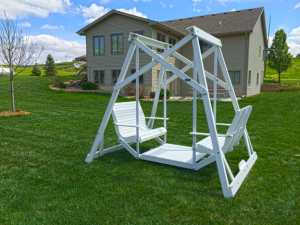 Though our glider swing is what we are most proud of, that is not our only focus! We sell many lawn furniture items including Adirondack chairs for adults, toddlers and side tables to rest a nice cool beverage. These are built to the same standards and with the same goal in mind – bringing people together. They also have the 2 year commercial grade warranty. We have seven different colors to choose from for these products and we even mix and match to make custom color options. We hope to bring even more variety by adding new products this year.